Content marketing is one of those newfangled marketing techniques that when done right, give a company the appearance of being high tech, hip, and above all – having a substantial marketing budget. Many of us smaller businesses would love to exude this cool marketing ethos, but shy away because of our misconceptions on price. Even the most flashy and professional tools aren't as expensive as they might first appear. In fact, here are 5 of my favourite content marketing and management tools that are totally free.
Hootsuite
Link: https://hootsuite.com/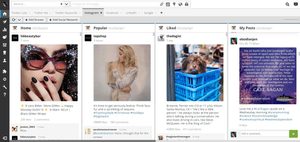 Used for: Scheduling social media posts, managing numerous social media accounts through one dashboard.
Hootsuite's free account allows you to manage 3 different social media accounts through one tool. 35 of the most popular social media platforms are compatible, including the usual suspects: Twitter, Facebook, Instagram, Google+, etc. One main benefit of using Hootsuite is that you can schedule future posts, so if you need a particular message to go out at a certain date or time, this can be set up incredibly easily.
There are also a number of apps and addons that you can install into your free account to integrate other tools and generally enrich your experience. If you share a lot of links, you may be pleased to hear that if you use Hootsuite's native URL shortener, you can access analytics to see how many clicks each link received. This way you can identify which posts got the best response so you can replicate that approach in future.
They only allow 3 accounts to be managed through the free version, but give it a go and see how deep your social marketing rabbit hole goes. If you find that you need to add more accounts, it may be worth considering signing up to their paid service. Their most affordable option isn't overly expensive, at around £12 per month.
Pocket
Link: https://getpocket.com/
Used for: Collecting together videos and articles that you want to view later, but can also be used to collate external content to share on your social media feeds.
I've spoken about Pocket before when I discussed using curated content in your content marketing efforts. If you do want to share content from elsewhere, Pocket is great. Its main purpose is for saving articles and videos that you want to view later into what is effectively an online "to read later" list. However, it can also be used to collate content that you want to share later too.
Pocket allows you to tag each piece of content that you add to your list, so you could easily create a "to share" tag with content you want to share on social media later. You could also create a tag for content that has inspired you to share your own views on a topic, or something else that you want to visit later with a view to creating your own content. You could use your Pocket list as a private pinboard of content that you like, akin to a swipe file of sorts. On first appearance it may seem like a limited tool, but with a bit of imagination it can really work for you!
Canva
Link: https://www.canva.com/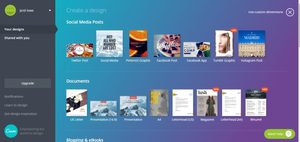 Used for: Easily creating professional graphics for your website, blog, social media or email campaigns.
Canva is an online image editing and creation tool that is available for free, and all editing is done through your web browser, so there's no software to download. They do charge for a selection of premium assets such as stock images and graphical touches, and they also have a paid version of their tool, but to a small business wanting to get in on the content marketing revolution, the free tool is perfect.
When you log in to Canva, there are a number of preset image sizes you can choose from, set at the ideal dimensions for a number of purposes; such as standard page sizes, flyer sizes and social media post sizes to name but a few, but you can use custom dimensions if you have something else in mind. You can easily use the tools provided to upload your own assets, add filters, include text and logos, and easily put them all together into something that really adds value to your brand.
Even without a formal education in graphic design, a novice can easily produce a highly polished image that they'd be proud to share online. My only criticisms are that you can't create a shape that isn't in their bank of assets and you can't apply gradients; but these are relatively minor considering how much you are able to do for free.
LeadIn
Link: http://www.leadin.com/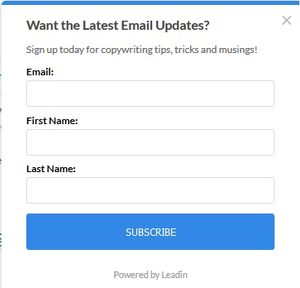 Used for: Growing your subscriber list using a pop-up window overlaid onto your website.
If you have a website, LeadIn is a fab tool; it's a totally free way to incorporate a pop-up window over your website to collect subscriptions to your email mailing list. It's available as a WordPress plugin or as a piece of code to be incorporated on whichever pages you like manually. After a brief setup, you'll have to integrate the account you use for sending email campaigns, such as MailChimp (it'll ask for what's known as an API key), and select which of your subscriber lists that you want people to sign up to. You can then provide the text you want the pop-up to display, and when the setup is complete, you'll end up with something like the image to the right.
I can personally vouch for the fact that the WordPress plugin option is incredibly easy to use and the setup was very easy to follow. I mentioned MailChimp, but it also works seamlessly with other content management and distribution tools such as AWeber, Constant Contact, GetResponse and Campaign Monitor.
MailChimp
Link: http://mailchimp.com/
Used for: Sending direct email campaigns, Managing subscriber lists.
If you're curious about sending direct email campaigns, chances are you've stumbled across MailChimp before. It is a great way of creating, managing and sending bulk email to set groups of subscribers. Their free account allows for up to 2000 subscribers and allows you to send 12000 emails per month – therefore if you have around 2000 subscribers, you can send out a campaign to all of them about 6 times within the month.
On top of simply being able to create campaigns and send them out, MailChimp also allows you to access powerful reporting and metrics on how many people have opened your email, clicked on the links therein, comparisons to industry averages, as well as whether the campaign failed to get through to any subscribers, and indeed how many people have unsubscribed following a campaign.
You can create an A/B test with the free account too; if you are unsure what this is, it basically means that you can create two similar emails with subtle differences in images or text used. Both versions will be sent to a small subset of your subscriber list, and after a while whichever version got the best response gets sent to the rest of the list. Clever, huh?
I'm a big fan of MailChimp, I find their campaign editor very intuitive, but it can take some getting used to some of the finer points of presentation. Some things even still catch me out – especially when it comes text formatting. My advice here is to create a test list with your email address(es) on and play around with sending a few test campaigns to yourself to get the hang of producing and processing a campaign from start to finish, before you start to send out real campaigns to real prospects. This way, if you experience any mistakes to learn from, at least they're more likely to be private!
Think #contentmarketing is expensive? Think again! Check out our 5 favourite free tools.
Click To Tweet
Think I've missed out a great tool that you love using? Share it down in the comments below!