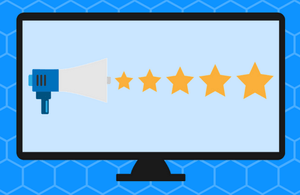 As the internet has become more and more of a permanent fixture in our lives, it is now paramount for modern business owners to maintain a good reputation online, even if those businesses aren't particularly online-orientated. Many of us turn to the internet first to source places to buy products and services: seeking everything from prom dresses to plumbers; copywriters to craft beer; Nintendo Switches to notaries.
All business owners want to make a good impression, both online and offline, but the prospect of "online reputation management" sometimes sounds like a daunting prospect. However, I assure you it really isn't! Let's take a close look at 6 things you can start today to ensure that your business's online appearance stays in tip top shape.
1. What Are People Saying About You?
Firstly, you need to make yourself aware of what people are saying about you online. Take stock of all of the places your company is present on the web – review sites (such as Yell or TripAdvisor), business listing sites (such as Cylex), and social media profiles (Facebook, Twitter, et al). Have you received any reviews or comments that you weren't aware of? Have any clients, both happy or otherwise, mentioned your company on social media? Have you responded to any of this input?
Schedule in some time to get yourself back up to speed, and make a point of doing so periodically, at least a few times a month. I know this sounds like a big commitment, but if someone is causing a stink about you online – and you're oblivious to it – who knows how much damage their comments are going to do over time. Review sites and social media are now perfectly legitimate methods of lodging a complaint, so don't let them pass you by!
For more info, check out our previous posts How to Professionally Respond to Online Reviews and How to Manage Your Business' Reputation on Social Media.
2. Keep Your Information Complete and Accurate
Keeping all of your social profiles and business listings up to date is crucial. Now you're aware of all the places you can be found online, make sure that all of the information shown is current and correct. This includes full contact details, street address, email addresses, social media handles, opening times, and map pointers.
Opening hours and map placement are particularly important to businesses who rely on foot traffic (e.g., retailers and eateries) or those who depend on business coming in from the local area (e.g., tradespeople and mobile services).
Remember that if things change – say a move of premises or new company name – remember to reflect those changes everywhere you are visible online.
3. Build Processes That Encourage Reviews
Take a look at the average customer journey from initial enquiry all of the way to completion, and the types of communication you provide along the way. Where within this process can you "systematise" asking for reviews, so not a single customer goes by without being prompted to share their thoughts?
Let's give a couple of examples of how this could work:
Retail establishments may include a link on their receipts for customers to leave a review with staff mentioning it to each customer at the point of sale.
Tradespeople may hand out cards or other physical collateral upon completion of their work, encouraging the customer to leave a review online.
If you are a paying Yell customer, you can log into your Yell Business account to order personalised review materials.
However you decide to ask clients for reviews, always be sure to communicate these processes to your staff so no customer escapes without being asked for a review!
Want more ways to encourage reviews? Head over to our previous post: 11 Ways to Encourage Customers to Leave Online Reviews
4. Be as Omnipresent as Possible
When you search for a company, search engines like Google tend to cross-reference listings from a number of trusted websites to ensure they're giving out the correct info. It's therefore important to be present and correct on a variety of trustworthy online review sites and directories. In addition to this, remember that everyone has their favourite resources for finding information about companies online – just because you like to use Facebook for example doesn't mean everybody does the same!
As well as general listing sites like Yell, also consider industry-specific listing options too. If you're in hospitality, TripAdvisor might be important to you. Professionals might want to register with their local Chamber of Commerce, or on an appropriate directory for their sector, such as the Society of Virtual Assistants or the ProCopywriters' Network.
5. Never Fear a Bad Review
This one is certainly easier said than done. If your business is new or you've never listed it online, putting yourself out there and open to critique can be a scary prospect. However, if you're focused on making every client as happy as possible you have nothing to fear – even the most scathing reviews can be used to create a good impression when handled with care and honesty.
By dealing with complaints on a public forum with generosity and grace, you prove to outside observers that you're committed to customer satisfaction enough to deal with complaints head on. It allows you to publicly offer an olive branch and show how good you are at turning a bad situation around.
Want to read more? Check out our previous articles: Turning Negative Reviews into Positive Experiences and The Benefit of Reviews On Your Yell.com Business Listing.
6. Google My Business really does put you on the map
Google My Business is an absolutely critical place for you to list your business. When you list your company through Google, a search for your company has a higher change of displaying a "knowledge graph" or "map pack" alongside the normal search results, giving you a little more screen real estate than a regular search result; displaying a map pointer, contact details, and opening times, among other handy details.
However even when this information is submitted directly to Google, cross-referencing with other sites does still occur, so it's important to ensure you're also on Yell.com! Claim your free listing with us here.
For more information about Google My Business, head over to our previous post: How to Optimise Your Google My Business Listing.
Are you just getting into managing your reputation online? Or are you interested in taking your established online presence to the next level? If you want to manage company listings, social profiles, and reviews through a single intuitive platform, our Reputation Manager product can do all this for you and more.
Want to find out how best to manage your online reputation?
Click To Tweet
So reader, it's over to you! How do you manage your reputation – both online and offline? Do you do anything regularly to maintain that reputation? Is there anything you use that we've not mentioned here that helps keep you in good standing? Let's have a chat down in the comments!