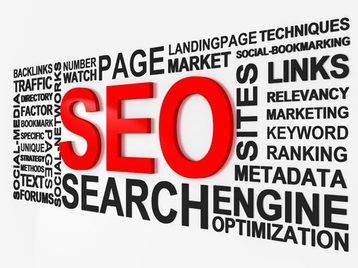 If you think you are not performing well for some of your chosen keywords:
(1) Make sure that the copy on your website (page titles, description, images, links etc) encompasses the terms people use when searching for your products and services. "Optimised" means whether the copy on your site uses these keywords. Make sure the copy still reads well and is not repetitive or artificially stuffed with keywords.
(2) Try and acquire more high quality, relevant links to your website from other related sites. To find out how many external websites link to your website go to Bing search and then type "link:www.mywebsite.co.uk" – without the quotation marks. The results will show you the number of incoming links to your website. These are the links on other websites that point to your website.
(3) The more you engage on social media sites (Google Plus, Facebook, Twitter) and promote your website's content, the more SEO value you potentially generate for your site.
(4) Claim your businesses' Google Places listing as this helps you get more presence on Google's search results. Google shows Places listings for search queries with local intent, so a listing will ensure you have a better chance of being visible.
(5) Speak to a real expert who you can trust: someone with a known and trusted brand, with the expertise, clear and competitive pricing and payment terms which is explained up-front, a clear explanation of how they will help and strong (free) after sales support. Read Google's guide on the questions you should be asking a potential SEO supplier.
Read the other posts in the mythbusters series:
SEO Mythbusters – Setting the record straight
SEO mythbusters – Rank top in Google
SEO mythbusters – Instant Gratification and success
SEO mythbusters – We guarantee results
SEO mythbusters – We'll deliver unbelievable results
SEO Mythbusters – We will get you thousands of links to your site