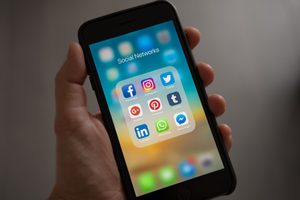 When you have a business to run, the demands can be multitude and time is precious. The last thing on your mind is going to be writing a lengthy social media strategy.
Happily, social media strategies only need to be as detailed as you want them to be. A huge company with a standalone marketing department might benefit from a strategy that goes into pages of detail about roles and permissions, but for smaller businesses, a "quick & easy" social media strategy really is enough to get you started. You can easily add to it over time as your social media grows and develops.
Once created, all you need to do is refresh and update it as necessary, be this once per year or simply "as and when", for example when you introduce new platforms, or incorporate significant changes in content strategy.
Why do you need a social media strategy?
Whether you are using one social media platform or ten, having a social media strategy enables you to steer your activities in such a way as to ensure you are maximising your returns from it. Establishing your goals and objectives, and putting in place a system with which to meet these, will help you to keep your social media activities consistent and targeted, increasing your returns.
A social media strategy is especially useful for businesses where more than one person works on the social media, because it provides a single point of reference to refer to for guidance on audience, content, and tone for all platforms.
Your quick & easy social media strategy in six parts
1. Summary
Begin your social media strategy by briefly summarising (in bullet points if you wish) your social media in terms of its historic and current performance. What have you done well, and what could be improved upon? What is the most important thing for you to focus on this year? What is your budget (if any), and what do you anticipate the results of your social media activities being this year?
2. Audit
This section is simply an opportunity to take stock of your performance "as is", so as to give you a starting point from which to make any improvements. If you have time to review your activities in detail then great, but if not then the simplest way to do this is to draw up a quick "SWOT" (strengths weaknesses, opportunities, and threats) chart, specifically pertaining to your social media. For example, a strength might be your frequency of posting, or a weakness might be your percentage of conversions into sales.
3. Goals
This is where you need to outline your KPIs, your markers of performance. Stick to 3-4 measurable goals, such as conversions, web traffic, or follower growth. Outline how you will measure these.
4.Target audience
This section is an opportunity to drill down on your audience and establish what you know about them. Collating this information will enable you to quickly discern which platforms and content types will help you to best reach each segment of your audience.
The most straightforward way to format this is in a table, to make it clear and easy to refer to. Along the horizontal axis, break your audience down into core segments, for example, leisure, corporate, groups, individuals. The vertical axis should cover the various characteristics of your audience, for example, their budget, their needs, and their preferred social media networks.
5. Competitor analysis
Tabulate your key competitors, detailing the social media platforms they are active on, the number of followers, their typical engagement levels, their strengths and weaknesses, and their preferred type of content.
6. Content strategy
Now that you've established the profile and needs of your audience, your current performance, your competitors' performance, and your goals, you are in a position to create your content strategy. This can be as simple as outlining the types of content you will share, how frequently you will share them, and to which platforms you will share them. You may decide to create a standalone content calendar at this point, it is completely up to you!
Because who has the time? Your quick and easy #socialmedia strategy in 6 parts Click To Tweet
Read More