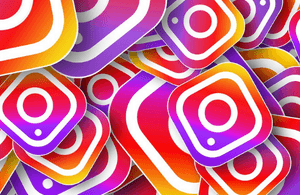 Instagram is one of the big players in the social media stakes, but has a bit of a reputation as being trendy, superficial – even a bit shallow. The truth is anything but. 80% of Instagram users follow a business on the platform, and B2Bs can totally kill it on Instagram too!
Yes, it's the cool kid on the block compared to Facebook and Twitter, but it's highly engaging and accessible to anyone with a smartphone. It's possible that there's a new and interesting audience waiting for your business over on Instagram!
So let's dive right in…
Why Should Businesses Choose Instagram?
Instagram is often brushed off by businesses as a millennial trifle – full of filtered selfies, vegan dinners, and dank memes. But once you look past the superficial, it's a great place for businesses to make a name for themselves. Instagram is reliant on visuals, and as such it gives brands a unique platform to establish a visual personality.
Instagram puts mobile first – each account has to be tied to a phone or tablet; so chances are that a real person gets a ping every time someone likes, follows, comments, or otherwise engages with their content. This makes it a very level playing field in terms of approachability. For example, many celebrities post, comment and respond from their own devices – or at least appear to – rather than hiding behind a marketer or agent. Similarly, businesses can use Instagram to be just as candid and personal.
Instagram findability relies heavily on hashtags so it's easy to find and tap into markets (and them to tap into you!).
What Does Each Function Do?
So let's take a look at Instagram's core functions:
Feed: The feed shows when you start up the app on your phone. Much like feeds on other social media platforms, it shows posts from people you follow and provides the ability to like, comment, share, and save those posts as well as exploring user accounts and hashtags.
Posting: "Regular" Instagram posts show publicly on your account, and can take the form of a single video or photo, or a slideshow of up to 10. You can take the photo/video through the Instagram app or share media already saved on your device. This post may show in the feeds of those following you.
Stories: Stories are a fairly recent feature where you can share pictures and videos that expire after 24 hours. They're great for quick posts that you don't necessarily want to show on your followers' feeds. Head here for more inspiration about using stories for business.
Instagram Live: This is Instagram's live video broadcasting platform (like Facebook Live or Periscope). Live streaming is a great way to engage with your audience through exclusive tutorials, candid "behind the scenes" vlogging, announcements, Q&As, or sharing a live event.
IGTV: This is a platform where Instagram users can create and share videos – it's basically Instagram's take on a YouTube-like service. Honor takes a more detailed look at IGTV here.
Before You Start
As with most things in business, it's a good idea to stand back for a second and plan before jumping in.
Think carefully about what you want to achieve from being on Instagram, and establish a proper strategy. Who do you want to reach? Why do you want to reach this group? Where can they be found on Instagram? How can you attract that audience? Set achievable SMART marketing goals that are aligned with your business's own objectives.
When you're new to any given social media platform, I always advise that you set up an anonymous account first with no ties to your brand (or any other brand for that matter). Use this account intensively to get to know the platform, how it works, and to learn its general foibles. This way, you can make all of your rookie mistakes on an account that doesn't have your branding plastered all over it, so your company can save face.
When you've learned the ropes and you've set up your business account, look around at others in your niche. Are there any Instagram accounts in your industry that inspire you? Are there any valuable and relevant hashtags that seem prevalent in your niche? Follow them!
Observe your feed and the accounts of those you follow – why do you like these accounts? What draws you to their content? Is there anything you don't like? Make a note of the things you like for future inspiration – without verbatim copying of course.
Once your business's account is set up, enter your business details clearly and provide a brief but value-driven description of what you do. I'd highly recommend registering as a business account (you do this after you've signed up) so you can monitor your post performance with analytics.
And perhaps most importantly – you need to post consistently in order to be seen regularly! Use scheduling tools like Hootsuite, Buffer, or RecurPost if you need to.
5 Things You Can Share on Your Biz's Instagram Today!
So let's take a look at 5 things you can post to get your brand spanking account looking a bit less empty…
A professional headshot or a professional-looking selfie of you or members of your team with a little information about what each person does. This is a good place to start any look behind the scenes whilst also giving recognition and thanks to each team member's efforts.
Post images of your products, video tutorials, or a visual "before and after" to demonstrate your value. You could also encourage followers to share pictures of themselves with your product, to tag you in, and use a branded hashtag.
Use a simple graphics program like Canva or Pablo to create a text image that conveys an interesting, useful, or relevant piece of info. This could be a statistic, a motivational quote, a quirky industry fact, or a question to discuss in the comments.
Share your workspace, your desk, or your tools of the trade. The bits and bobs you use every day could make an interesting photo or video, especially if they're specialist or unusual tools. Think about where you are and what you're doing – is there an interesting post hidden anywhere?
Record a quick video (Instagram posts only allow for videos of 1 minute long) or prepare a text image that gives a simple tip that relates to your product or service and that followers can start using straight away.
For some specific ideas of things to share when your business isn't very visual, this recent article should give you some more detailed inspiration.
Always remember your clients' needs and wants when putting together any marketing materials and prove your value. Experiment with a variety of content, analyse the performance of your posts and lean towards content ideas that seem to perform well.
And lastly, enjoy it! Instagram is a fun platform to be on, so happy 'gramming!
Wondering how your biz can get started on #Instagram? Hit the ground running with our simple guide!
Click To Tweet
What piqued your interest about using Instagram for business? What are you hoping to achieve from your Instagram journey? Let us know down in the comments!